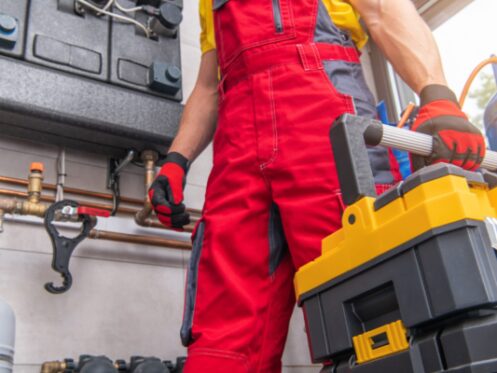 It can be tempting to attempt a repair of your furnace or air conditioner yourself, but this attempt to save a little bit of money really isn't worth it in the long run. A lot of DIY repairs end up causing more damage down the road, resulting in you trying to scramble for an emergency repair. The next time that you need to have routine maintenance or repairs performed on your HVAC system, reach out to a certified HVAC technician. Not all technicians are as experienced and qualified as they should be, and that certification really makes a big difference in the outcome of the services rendered.
Let's take a look at some of the specific reasons why you should only hire certified HVAC technicians for any work that you need to be completed.
Adhering to Industry Standards
There is a certain quality of work and professionalism that is adhered to by professionals in the HVAC industry. In order to become certified, there is a procedure followed that verifies that a technician or company has gone through all of the required training necessary to meet industry standards and requirements. Taking care of the installation and repair of HVAC systems can be dangerous and complex. You want to ensure that you're hiring the best professionals in the area to perform the tasks needed.
Extensive Knowledge
There is a certain amount of education, experience and knowledge that is needed in order to become certified. This isn't something a technician is going to accomplish right out of their training. A brand-new company needs time to build up its experience and become certified. When you hire a certified HVAC technician from a reputable company in your area, you know that the most recent and updated knowledge and skills are being brought to the job. Also, an HVAC technician must go through advanced training in order to become certified.
Experience
The more jobs that a technician completes, the more of an expert they become in their field. This expertise allows them to become certified as long as they meet certain criteria. This can include working in the HVAC field for a certain number of years or going through advanced training. With this extensive knowledge and experience working on all the different types of HVAC equipment, a certified technician will provide a much higher level of service than an uncertified technician. The various certifications a technician can earn demonstrate this high level of expertise and a track record of understanding and resolving HVAC problems.
Service You Can Trust
Having access to a certified HVAC professional means that you can have more faith in the work that's being done. Your HVAC system is something that you rely on each day to keep your home comfortable. It's important that you're able to count on that system running as needed without any kind of malfunctions. You also can trust that high-quality work is going to be safe in the long run. You don't want to have to worry about your furnace or air conditioning system being a fire risk.
Emergency Repairs
When you call on a certified technician for an unexpected emergency repair, you can count on them to solve the problem must faster than just a handyman or friend with a little experience. They'll be able to quickly and accurately diagnose the problem, typically offering you different options for fixing the issue. When the air inside your home is not comfortable, emergency repairs are imperative. That's why depending on an experienced, licensed technician is a must.
EPA 608 Certification Benefits
The Clean Air Act requires that the EPA 608 certification is acquired by all technicians that will be working on equipment that contains refrigerants. This is to ensure that no harmful chemicals are released into a home or business's indoor air. EPA-approved tests are provided to technicians based on the type of equipment that they want to become certified on.
If you encounter a company or technician that does not have the EPA 608 certification, this is a warning sign that you should keep looking for someone else to help you. That technician cannot legally purchase refrigerant or service equipment that contains refrigerant. It's likely that the quality of service you would receive would be sub-par.
NATE Certification Benefits
The North American Technician Excellent certification is offered for all heating, ventilation, air conditioning and refrigeration technicians. This is one of the most highly regarded certifications in the HVAC industry, and many technicians seek to achieve it as a way of looking more reputable than their competition.
The NATE certification means that you're getting a technician who has advanced training in their field. They have expertise in a number of areas, ensuring that only quality work is being done from the beginning of the project to the end. It's likely that you're going to receive much better service and a pleasant experience when you choose a NATE-certified technician compared to someone who hasn't bothered to acquire their certification. You can ask for a technician's credentials and NATE ID number if you would like to confirm that they are certified.
The HVAC Excellence Certification
There is an HVAC Excellence certification that provides the opportunity for HVAC technicians to achieve progressive levels of certification throughout their careers. This is a method of allowing the customer to determine which technicians have the most experience and expertise. A professional-level HVAC Excellence Certification requires a technician to have worked in the field for a minimum of two years before applying. There is also a master specialist certification that requires three years of field experience in addition to passing an examination.
Ongoing Education and Training
A lot of HVAC certifications must be renewed periodically. For example, the NATE certification must be renewed every two years. In order for this to happen, a professional must submit proof of 16 hours of continuing education. They also have the option of taking an exam. This confirms that there is an ongoing interest and effort to stay current on developments in the HVAC industry. Some companies will provide in-house training to their employees as a way to build a reputable business and better serve their clients.
We employ only the most experienced and knowledgeable, certified HVAC technicians in the area. Whether you're in need of annual routine maintenance or a full replacement of your HVAC systems necessary, we walk you through the entire process, so you know what to expect. We provide residential and commercial air conditioning installation, maintenance, and repair services and also offer ductwork installation, venting, and repair. If you are building a new home or commercial property, we are experts at outfitting new construction with efficient air conditioning systems. Our goal is to take care of your home and family as if they were our own. Contact Billfish Air Conditioning, LLC in Stuart for more information.